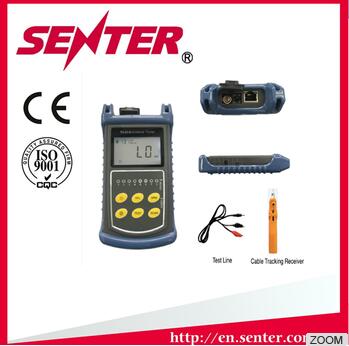 Add to Favorites
Share
ST007 Optical Power Meter, VFL, Cable Tracker, Check Line Sequence Hand Held Fiber and Copper Cable Tester
Payment

Origin

China Mainland

Minimum Order

1

Packing

Pieces
Product Detail
ST007 Optical power meter + VFL + Cable tracker + Check line sequence function in one tester/ Optical power meter with VFL with cable tracker




Brief Introduction
ST007 Fiber & Copper Cable Tester is one test meter together with the
function of optical power meter, visual fault locator, cable tracking, check line
sequence, and can be widely used in area of communication lines,computer
network project and others, improving the line working progress and find out
the line fault quickly.
It designed easy to carry and use; stable performance makes it suitable for a
variety of environment, finding out the fault of kinds cables and fibers. It can
save user's time, improve the efficiency, handheld design with large LCD.

Main functions and key features:
1. Multi-wavelength precise measurement
2. Absolute power measurement of dBm or xW
3. Relative power measurement of dB
4. Auto off function
5. LCD backlight display
6. Auto off LCD backlight display function
7. Test and show the battery voltage
8. Design for test low voltage, low voltage power off function
9. Check line sequence function
10. Cable tracking function: it can quickly find the needed line among many
disordered lines. When switchboard is with weak electricity, it can also
check the line
Technical Specifications:

General specifications

Auto shut off

10 minutes

Auto close backlight

10 seconds

Working temperature

0? ~ +40?

Storage temperature

-10? ~ +40?

Weight (g)

220

Dimension (mm)

160*76*28mm

Battery

3.7V/620mAh rechargeable Li battery

Relative humidity

20%~75%(Non-condensation)

Optical power meter module

Wavelength range (nm)

800~1700

Detector type

InGaAs

Measurement range (dBm)

-50~+26, -70~+10

Uncertainty

±5%

Resolution

0.01 dBm

Adapters

FC, ST, SC

Visual fault locator module

VFL

FP-LD

Wavelength

650nm±20nm

Output power

1mw/3mw/5mw/10mw (optional)

Connector

2.5mm universal adapter(SC, FC, ST)

Working mode

CW or 2Hz modulation

Applicable fiber

SM / MM

Check line sequence module

Function

Support generate network line signal to view the network check line sequence with the receiver.

Feature

Easy to operate: determine the line sequence by receiving side lights order

Cable tracking module

Test cable type

Network cable, twisted pair cable, telephone line, USB cable, coaxial cable.

Line status test

Determine open or short circuit

Voltage polarity detection

Positive and negative of DC voltage

Distance of signal transmission

No less than 3km

DC Voltage

No more than 48V

If you're in need of st007 optical power meter, vfl, cable tracker, check line sequence hand held fiber and copper cable tester to help with your business, please be free to buy with our factory. As one of the leading such manufacturers in China, we will offer you low price and unmatched services.
3
YRS
Shandong Senter Electronic Co.,Ltd
China
Favorites