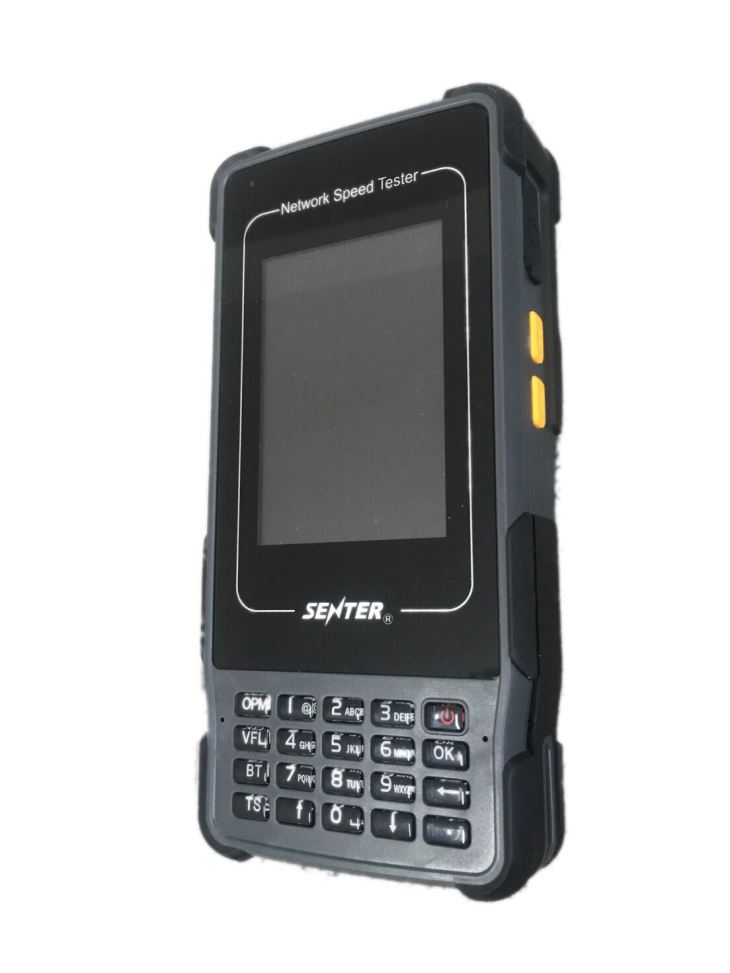 Add to Favorites
Share
ST113 Hand Held 3.5 Inch LCD Display ,8200mah Polymer Battery, Multi Functions,optical Power Meter, VFL, Bluetooth, USB Charging and OTG Reverse Charging, Network Speed Tester
Payment

Origin

China Mainland

Minimum Order

1

Packing

Pieces
Product Detail
ST113 Network Speed Tester





Brief Introduction

Network speed tester is a portable equipment, designed for meeting the needs of telecom operator, whose functions including optical power test, visual fault locator, bluetooth, charging and reverse charging, etc, and with the characteristics of easy operation, powerful functions, and long standby time.

Main functions and key features

Hand-held design, compact and lightweight;

Multi functions,optical power meter, VFL, Bluetooth, USB charging and OTG reverse charging, Network speed testing functions.

WAN&LAN Port, support both internal and external network connect

3 seconds to power on or power off the tester.

3.5 inch LCD Dispaly, 20 digit keypad

8200mah polymer battery and the max power reach 3w,and standby time reach 27 hours.

Bluetooth 4.0, support to connect with Andoird 4.3+Mobile phone, and other OS mobile phone

Optical power testing,support Multi-wavelength precise measurement

Absolute power measurement of dBm or xW

Relative power measurement of dB

Visual Fault Locator:650nm,support both SM and MM fiber

Network speed testing range can reach 1000M

Technical Specifications

General specifications

Display

3.5inch LCD

Keypad

20 digit

Working temperature

0? ~ +40?

Storage temperature

-10? ~ +40?

Weight (g)

447

Dimension (mm)

181*87*45mm

Battery

3.8V, 8200mah polymer battery

Relative humidity

20%~75%(Non-condensation)

Optical power meter module

Wavelength range (nm)

800~1700

Detector type

InGaAs

Measurement range (dBm)

-50~+26, -70~+10

Uncertainty

±5%

Resolution

0.01 dBm

Adapters

FC, ST, SC

Visual fault locator module

VFL

FP-LD

Wavelength

650nm±20nm

Output power

1mw/3mw/10mw/20mw (optional)

Connector

2.5mm universal adapter(SC, FC, ST)

Working mode

CW or 2Hz modulation

Applicable fiber

SM / MM

Bluetooth

Specification

Bluetooth 4.0

Feature

Support to connect with Android 4.3+Mobile phone and other OS mobile phone

Charging and reverse charing

Charging Current

1 A

Network Speed test




Testing range

0~1000M

If you're in need of st113 hand held 3.5 inch lcd display ,8200mah polymer battery, multi functions,optical power meter, vfl, bluetooth, usb charging and otg reverse charging, network speed tester to help with your business, please be free to buy with our factory. As one of the leading such manufacturers in China, we will offer you low price and unmatched services.
3
YRS
Shandong Senter Electronic Co.,Ltd
China
Favorites