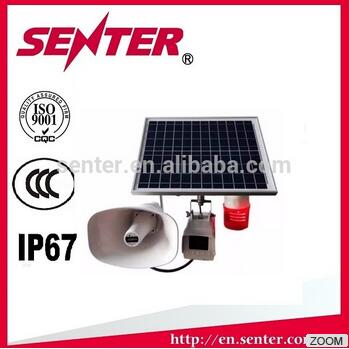 Add to Favorites
Share
ST2303B Outdoor Solar Powered Security Camera Wireless 3G 4G sim card wireless communication
Payment

Origin

China Mainland

Minimum Order

1

Packing

Pieces
Product Detail
Product Description


SENTER ST2303B remote 3g security camera solar powered outdoor

ST2303B Key Features

Take photos

Micro video

Real-time video

System advantages:

Wireless communication: Telecom, Unicom, Mobile 2G/3G/4G wireless transmission, Operators can be selected according to local conditions .

Mobile terminal management:Through Wechat platform, it can achieve the management for monitoring targets through mobile phone.

High definition: 8 Million pixels,the minimum image resolution is up to 3200*2400

Durable: Continuous power supply will be for more than 30 days, service life will be more than 5 years.

Light: Weight(including the solar panel and bracket) is about 4.5KG, it is easy to install and labor saving.

Small Size: One-tenth of the original video monitoring device.

Military protection grade: IP65 industrial protection grade

Solar-powered: Can be used in the circumstance of no power supply.

GPS positioning: Find the fault point accurately

Cost-saving: Intelligent analysis,filtering out 95% trouble-free pictures, saving data traffic.

Specification list

Applications for SENTER ST2303B solar battery wifi outdoor camera 3G

Electrical Power

Railway

Foreign matter causes short circuit.

Insulator discharging

Fast growing vegetation

Working around the base of the tower

Wildfire warning

Illegal construction of the crane

Specification

Performance

Pixel

8 million pixels, Pixels can be set

according to the needs of the

scene, the minimum image

resolution is up to 3200*2400

Supervisor shoot cycle

Default collection interval is 1 hour, collection interval can be set free.

Picture collection mode

Automatic;Manual

Protective Grade

IP65

Positioning function

Support GPS

Communication mode

Telecom, Unicom, Mobile 2G/3G/4G wireless transmission,

TD-LTE B40/B41;LTE-FDD B1/B3/B7; WCDMA B1/B2/B5;GSM B2/B3/B8

Size of the solar panel

About 0.1m2(340mm*290mm)

Testing and debugging

Testing and debugging on the condition of no disassembling

Machine weight

About 4.5Kg( including the solar panel and bracket)

Battery capacity

10AH

Standby

Continuous power supply will be for 30 days, if the battery is single full charge charged

Bracket material

304 stainless steel

Diversity

It can be suitable for different kinds of Pole and Tower, like Angle steel tower, Cement Poles,steel tube pole etc.

Service life

More than 5 years

Installation

Two person,three steps,ten minutes

Two person operation: One person on the ground and one person on the tower can complete the installation of the whole set of device.

Three steps: Simple adjustment under the tower, Minor adjustment to fix on the tower, testing transferred pass on the ground

Ten minutes: The installation of the device can be completed within ten minutes.

Platform Functions

1.Browsing pictures

Display the latest 5 photos from the current time automatically, and the latest photo is shown strikingly. Double click the picture can see the big clear picture.

2. History searching

According to the search conditions can search the pictures accurately. The pictures you searched support to be exported singly, in bulk or Wechat pushing.

3. Shooting settings

Set the working time, working frequency, photo pixels, the length and frequency of recording video and so on.

4. Authority management

Different rights can be set for different groups. Users can only access their authorized resources.

5. Device positioning

Support GPS and display directly on electronic map. Provide the possibility for the equipment to be recovered in time.

6. Statistical analysis

Multi-dimension statistics, emphasis are different, including conditions of taking photo statistics, distribution of device statistics, voltage of the battery statistics, etc.

7. Photo rotating

There are nine photos on the screen at the same time, which can rotate automatically, and the quantity of photos on the screen can be set. When hundreds of devices are connected in the front-end of your circumstance, it can greatly save your browsing time.

8. Taking photos and Micro video automatically

Be ready all the time. You can get photos whenever you want.

9. Wechat pushing

Single pushing or mass pushing, you can choose flexibly. It is convenient and quick.

What would your inspection like in the picture?

Inspection device takes pictures and uploads in real time.

Monitoring center processes intelligently and selects artificially.

Wechat App can position accurately the line problems.

Our Services

Discounted Sample

Authentic Guarantee

Excellent After-Sale Service

Factory Direct Sale

DHL Fast Delivery

Dispatch Time: within 3 days after payment

24 hours hot line

Factory

Company Information

Shandong Senter Electronic Co., Ltd. (registered trademark "Senter", stock abbreviation:Senter electronic, stock code: 831427), located in state-level High & New-Tech development zone of Zibo city, is a IOT industry solutions provider mainly based on Telecommunications, power and otherdomains. It was founded in 1996, currently owns more than 200 staffs, the registered capital is 30 million RMB, and covers an area of 20,000 square meters.

The company has six major functional departments and three business divisions of Communications, Power and IOT based on different product.

Communications business division focuses on providing various types of communication maintenance instruments and series solutions for communications operators and private network users, mainly including intelligent installation and maintenance PDA terminal, optical communications test equipment, access services test equipment, installation and maintenance tools Instruments, wireless test instruments and so on. The products cover the communications installation & maintenance fields from voice to broadband, from copper cable to fiber optic etc..


Power business division provides various types of integrated surveillance solutions for the power industry mainly including power transmission line intelligent inspection systems, intelligent substation auxiliary systems integrated monitoring platform, high-voltage equipment temperature on-line monitoring system, power IOT intelligent terminals etc. The products cover intelligent power grid transmission, substation, distribution and other fields.


IOT business division mainly provides IOT solutions for various other industrial applications scene, leading products include PDA, mobile industrial tablet PC, mobile IOT intelligent terminals, etc., mainly use the LTE communications, RFID / NFC reader, residents authentication, fingerprint identification, high-precision GPS / Beidou navigation and 1D/2D barcode scan technology. It can be widely used in transportation, public security, inspection, logistics and other various IOT applications industry.


Over the years, SENTER always insists the development strategy of "professional, innovation, quality"; follows the industry development and customer demand; takes product quality as fundamental and technological innovation as the guide; has become the industry backbone enterprises. Up to now, SENTER has passed ISO9001 international quality system certification and GB/T29490-2013 enterprise intellectual property management standards system certification. SENTER is also identified as the "Post-doctoral Research Station," "High&New-Tech Enterprises", "Software Enterprise", "Zibo City Mobile IOT Intelligent Terminal Project Laboratory"; meanwhile owns the MIIT issued "Computer Information System Integration Three-Level Qualification " and the Shandong Provincial Public Security Department issued "Security and Protection Three-Level Qualifications." In recent years, the company has won the honorary title of "Shandong Province Outstanding E-enterprise", "China Patent Shandong Star Enterprise", "Shandong Province Outstanding Private Technology Enterprise", "Zibo City Top 500 Innovation and Development Enterprises". SENTER owns 85 patents, 27 software copyrights and 23 enterprise standards records; undertakes 22 all levels science and technology projects. 12 items of SENTER products passed CE certification and had exported to more than 30 countries & regions.

Basing ourselves upon now and looking beyond, in the Internet and the rapid development of information technology wave, we believe that the SENTER people will continue adhering the enterprise philosophy of "Creditable Business-founder, Win-Win Development"; taking "Forge National Brand" as its mission. With continuous innovation, strenuous efforts reliable products and qualified service, SENTER will make greater contribution to China's IOT & electronic information career.


If you're in need of st2303b outdoor wireless solar power security camera 3g cctv camera remote controlled inspection power line communication waterproof monitor system to help with your business, please be free to buy with our factory. As one of the leading such manufacturers in China, we will offer you low price and unmatched services.
3
YRS
Shandong Senter Electronic Co.,Ltd
China
Favorites