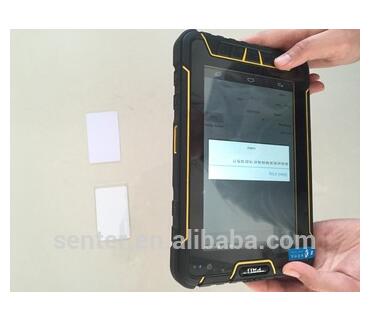 Add to Favorites
Share
ST907W-J 7 Inch android Mobile Industrial Tablet PC with 1D Laser Barcode Scanner
Payment

Origin

China Mainland

Minimum Order

1

Packing

Pieces
Product Detail
Product Description




OVERVIEW

ST907 industrial tablet PC is manufactured by Shandong Senter Electronic Co., Ltd., which adopts quad core 1.2 GHz CPU and Android 4.4 operation system; LCD screen is readable under sunlight; can configure barcode scanning, RFID reader, fingerprint identification as well as other information acquisition module; has super long battery life; IP67 high reliable three-proof structure; drop resistance from 1.2m; ST907 rugged tablet PC is an internet information terminal which has advanced technology, powerful function and reliable performance.

ST907 adopts the combination of host and modular jacket design concept. It not only has intelligent operation platform but also has functional modular jacket with flexible configuration. So it cansatisfy the customized requirements from different customers.

KEY FEATURE

-- Advanced system: Android 4.4 operating system; quad core 1.2 GHz CPU; RAM 2G

-- Three-proof design: IP67 three protection grade, drop resistance from 1.2m

-- Visible under strong light; 7 inch LCD screen, 1280x800 IPS capacitive touch screen

- Powerful function: multi function information acquisition configuration (1D/2D bar code scanning, LF/HF/UHF RFID reader, fingerprint identification)

-- Multi communication modes: support 4G, WIFI, Bluetooth and many wireless communication modes

-- Strong battery life: more than 600 hours of continuous standby

-- Support professional GPS: support differential data or common GPS

-- Support jacket extension: satisfy custom applications from customer

BarcodeScanHelper for sequential scan:

Specification list

General Specifications

Operating System

Android 4.4 OS

CPU

MSM8916, A53, 4 core CPU, 1.2GHz

RAM

RAM: 2G

FLASH: 16G

Extended Storage

Micro SD, Maximum 32G

USB port

5 pin MicroUSB; support OTG (U-disk/Mouse/Keyboard/USB Ethernet cable)

OTG

Support, through OTG can meet 100M network port, network card setup, PPPoE dial-up, web browsing. Support OTG extend RS232 serial port

External port

Charge port, headphone port

Protection Grade

Industrial Protection Grade

IP67

Drop Grade

Drop resistance from 1.2m

Wireless Communication

Bluetooth

Support 4.0

GPS

Support GPS, DBS, GLONASS and professional GPS,Ublox; GPS and Beidou (alternative)

WIFI

Support IEEE 802.11b/g/n

4G

FDD/WCDMA/GSM

LTE_FDD 1800/2100/2600 B1/B3/B7 LTE_TDD B41/B40

WCDMA 850/1900/2100 B1//B2/B5

GSM 900/1800/1900 B2/B3/B8

Data Acquisition (Optional)

Fingerprint identification

Supports fingerprint entry, image collection, fingerprint recognition, fingerprint deletion etc.

Type

TCSIST semiconductor sensor

ISO Template

Support

Sensor type

Capacitive

Acquisition window size

24.5*19MM

Effective image size

15.5*18.5MM

Image Size

256*360 Pixels

Image Resolution

500DPI

Matching mode

contrast mode(1:1); search mode(1:N)

Far infrared meter reading

Working frequency 37.9K

Barcode Scanning

1D Infrared Scanner Index:Motorola SE655

Scanning speed: 50 times/second

Scanning distance: 5.7cm-61.0cm

Scanning angle: 53.3° ±3°

1D Laser Scanner Index:Motorola SE955 or Honeywell N4313

Scanning speed: 104 times/second+12 times/second (two way scanning)

Scanning distance: 2.5cm-114.3cm

Scanning angle: 47±3°(default) /35±3°(reduced code)

2D Barcode Scanner Index:NLS-EM3096

Identification ability: 1D, 2D, OCR

Scanning angle: rotate 360°, incline±50°, deflection ±50°

Field of View: Horizontal 36°, vertical 23°

Depth of field: 4cm-23.5cm

Environmental luminance: 0~100,000 LUX

RFID

LF RFID:

134KHZ LF RFID or 125KHZ LF RFID

NFC (HF) RFID:

Working frequency: 13.56MHZ

Profile: Support ISO/IEC 15693, ISO/IEC 14443A profile

Support Cards: SR176, SRIX4K (TYPE-B), I- Code2, TI RFID label-it HF-I, EM4034, Mifare Classic ETC

Identification distance: not more than 5cm

UHF RFID:

Working frequency: 840-960MHz(customization of required frequency band)

Support agreement: EPC C1 GEN2/ISO 18000-6C

Output power: 10dBm-30dBm

Identification distance: not more than 6m

Physical Parameters

Display Screen

7 inch LCD screen, 1280x800 IPS screen, capacitive touch screen

Keyboard

Android menu, Homepage, Return, Volume, Barcode, ON/OFF, Reset

Camera

2 million pixels front camera, 8 million pixels rear camera with automatic focus and lighting function

Headset

3.5mm audio Interface, has mike and telephone receiver

LED indicator light

Support (ordinary flicker, Call fast flicker, missed calls) three status bar

Flashlight Function

Support, can be used for emergency lighting

Googleplay store

Support

Gravity sensor

Support

Compass

Support

Vibrating motor

Support

FM

Support

Rechargeable Lithium Battery

3.7V, 7200mAh

Standby

Standby current less than 10mA

Dimension

209mm*139mm*19mm

Weight

590g

Environmental Characteristics

Working Temperature

-20? ~ +50?

Storage Temperature

-40? ~ +60?

Humidity

5%-95% relative humidity; no condensation

APPLICATIONSOPTIONAL ACCESSARIES

APPLICATIONS

This advanced industrialgrade mobile information terminal can been widely used in mobile informatization projects of various industries, for example inspection, electric power, communication, gas,water affairs, logistics, medical treatment, government affairs, police affairs, forestry, traceability and other fields.

ORDERING INFORMATION

Ordering Information

Module Code

Module Type

Standard / Basic Part

ST907 Host

LTE/WCDMA/GSM
LTE_FDD B1/B3/B7 LTE_TDD B41/B40
WCDMA B1//B2/B5 GSM 900/1800/1900

ST907W-G

Android 4.4 OS, Quad Core, 1.2G

IP67 / Bluetooth /4G/ WIFI / GPS with accuracy 10m

7 inch IPS 1280*800 / 8 Million Pixels Camera

7200mAh Lithium Battery / Mini USB Port

Optional Module

Barcode Scanning

R

CCD Barcode Scanning(Motorola SE655 )

J

1D Laser Barcode Scanning(Motorola SE955 or Honeywell N4313)

2

2D Barcode Scanning(NLS-EM3096)

RFID

LF RFID

4

LF 134KHZ (FDX)

5

LF 125KHZ

C

LF 134KHz (FDX/HDX)

HF RFID

H

HF RFID 13.56Mhz

UHF RFID (865-868MHZ is optional)

1

UHF (900MHZ, 0.45m)

3

UHF (900MHZ, 2m)

M

UHF (900MHZ, 4m)

High Precise GPS

P

High Precise GPS Locating Module with accuracy <3m

Fingerprint

F

Fingerprint Module

Our Services

Payment terms: T/T 100%

Discounted Sample

Authentic Guarantee

Excellent After-Sale Service

Factory Direct Sale

DHL Fast Delivery

Dispatch Time: within 3 -5 days after payment

24 hours hot line

FAQ

Q1: Does the IP67 Rugged handheld Tablet PC can read QR code and common 1d bar codes? Support UHF RFID Europe standard?

A1: Yes, if choose 2d scan version, it can read both 1D common code and 2d codes such as QR, PDF417, Data Matrix, PDF417 code...

Yes,support America and Europe UHF RFID Standard.

Q2: What is your payment term?

A2: We accept T/T, Western Union, Paypal, Escrow.

Q3: Do you offer OEM service?

A3: OEM service is available in our factory, Could you tell us which is suitable for you please: special design, customize specification, logo silk print or customize retail boxes? But for OEM, we would require MOQ 100-500 units according to your OEM requirements.

Q4: Can i get a sample to test with a good price?

A4:Yes ! every clients with one time opportunitiy to get a sample with the same price for big order

ST907 Factory

If you're in need of st907w-j 7 inch android mobile industrial tablet pc with 1d laser barcode scanner to help with your business, please be free to buy with our factory. As one of the leading such manufacturers in China, we will offer you low price and unmatched services.
3
YRS
Shandong Senter Electronic Co.,Ltd
China
Favorites